2023 Co-op Community Spaces recipients
For nine years, Co-op Community Spaces has been creating places where communities can gather, learn and grow. We're committed to investing in the communities we serve because communities are at the heart of what makes us Co-op.
This year, we're providing $1 million to support 15 projects that will help protect, beautify and improve spaces in these local communities.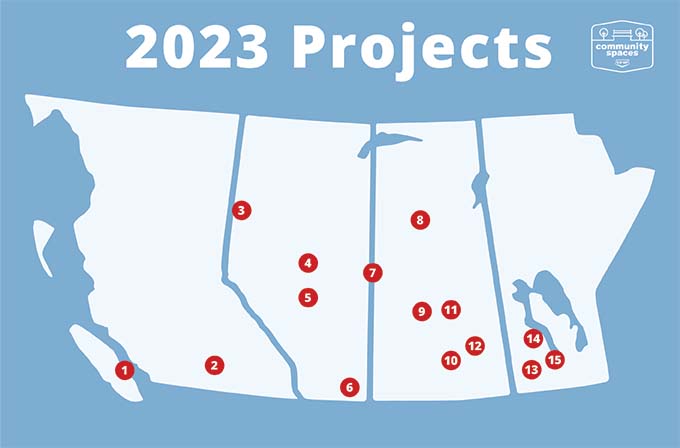 The eight acres around the Hornby Island Arts Centre will be uniquely landscaped with accessible interpretive trails and Indigenous medicine gardens. (Hornby Island Arts Council)
Parents, children and caregivers will benefit from a playground designed to support a range of needs, including mobility challenges to social and emotional disabilities. Julia's Junction is the first inclusive playground in West Kelowna. (PURKIDS Charitable Foundation)
The Hythe Community Centre will undergo an infrastructure upgrade to improve the energy efficiency of the building, and reduce its carbon footprint. (Hythe & District Recreational Society)
An existing community garden will be relocated and expanded to make it more inclusive and educational. The improvements will allow for education about gardening, nutrition and food security. (Barrhead Community Garden Society)
The classroom will create an educational space for interacting with chickens and learning about honey processing, sustainable agricultural and food security. (Ellis Bird Farm Ltd.)
The new agricultural centre will provide a space for people from surrounding areas to come together year-round for agricultural events, equestrian shows and more. (Foremost & District Agricultural Society)
The building of the first playground in the Aurora neighbourhood will ensure residents no longer have to travel to enjoy a playground. It has been designed to promote accessibility and inclusivity. (Midwest Family Connections)
The outdoor multi court will replace an existing cement pad and add a new court for volleyball, tennis and basketball, with additional lighting to ensure usability throughout the seasons. (Kineepik Métis Local Inc.)
The former Colonsay golf course will be transformed into an outdoor space for the community, including accessible pathways with signage, a dog park, disc golf, market area and a play structure. In the winter, the space will be used for cross-country skiing. (Golf Course Revitalization Committee)
This project will create a joint play space for students at Argyle School and École St. Pius X. The new playground will provide a safe space for outdoor learning and will give community members a place to gather. (Argyle School Community Council)
The Englefeld project will create a playscape and outdoor classroom inspired by local communities and ecosystems that will give students and children from the community an area for natural and creative play. The Englefeld School does not currently have a playground. (Englefeld School)
The hub will act as a community gathering place for residents and visitors to access information on amenities, location, history, culture, environment, events and activities in the District of Katepwa, and will also include a fully accessible trail with a map to guide users. (Katepwa Lake Trans Canada Trail)
This project will add a community kitchen area to the existing community centre. It will allow local community members to celebrate with food, host classes and provide access for local Co-op use. (Park Community Centre)
Enhancements to the existing Ducks Unlimited conservation area behind the Turtle River Sports and Agriplex include a new toboggan hill, disc golf course and trails. (Ste. Rose Recreation Commission)
The new skate/snow park will provide free recreational activities all year-round in an accessible area of Portage la Prairie. The park includes space for a variety of activities, including skateboarding, snowboarding, sliding, scooters and bicycles. (Portage la Prairie Revitalization Corporation)